I was in search of old photos and more family stories when I went to the Philippines. My old memories of my grandfather's generation are now foggy and misty. I quickly traveled down to Cebu to visit the grand old men of the Palugod clan. Homer Palugod stood in his living room posed like his father, resembling the way I remember the last time I saw our Lolo (Servillano) It was such a striking similarity that I knew if I took his picture the image might as well have been
<![if !vml]>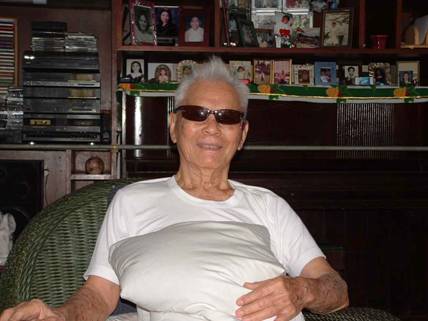 <![endif]><![if !vml]>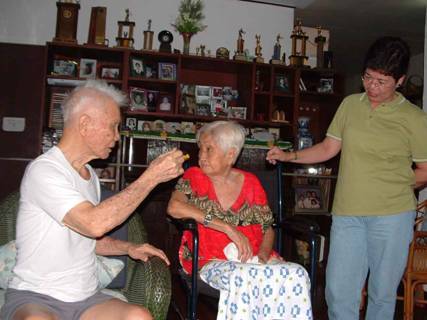 <![endif]>
Servillano Palugod. However, Homer is now 88 years old and has reached an age his siblings have not. There is a story in Cebu those on bright days he still drives around just to get his haircut. His hairs is now a silver gray but they are all there, a fact that even I envy. His mind is very alert and clear, but what we can we learn about him? He doesn't play golf anymore but is proud of his numerous golf victories. He is the grandfather of the Palugod that went south of the Philippines and proud of what he has done. He become Cebu's leading businessman, past president of the Rotary club. His best attribute is that he is a family man, which has probably sustained his longevity more than anything else. His wife Helen might not be as strong as he is now but together will face many more years to come. Like a Hollywood classic, Helen and Homer are here to stay. I took pictures to capture the moment.<![if !vml]>
<![endif]>
Earlier I went to Bambang, Nueva Vizcaya to visit another octogenarian. Dr.Elias Palugod. This war hero survived the Bataan death march looks like a perfect male specimen. Still standing lean and strong enough to jog the road, he escaped the world famous death march over 60 years ago and hiked his way back to Nueva Vizcaya. I tried to pick his brain underneath another full set of hair to validate the story. <![if !vml]>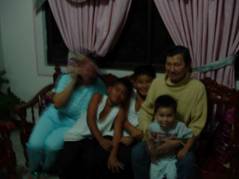 <![endif]> Not only did he share the story of an older Palugod generation that became carpet baggers in Nueva Vizcaya but also the secret of abundant growing hair: the shampoo of the horse trader. I might even try it myself. The next day Elias went to Las Pinas to visit his younger brother. Bayani Palugod health was declining lately. He is living with his caring son, Danilo Palugod a very successful bank executive of his own right. I later visited the family and learned that another son Renato and his family from Guam recently visited as the father was now depending on modern life support.
Homer, Elias and that generation born in the early 1900s have something in common that still escapes me. I still have to meet someone who would remember their grandparents. I went to Binakayan seeking a possible answer, but they could not come up with one.<![if !vml]>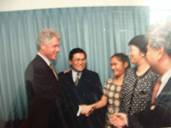 <![endif]><![if !vml]>
<![endif]>
I am happy to report that most of the Palugod left in the Philippines are doing well. The most popular vehicle in the Philippine is the new SUV Honda CR-V. I sure rode a lot of them driven by the Palugod. The price of gas in the Philippines is cheaper than US. the cost of gas is about 28 P (pesos) / Liter (L). There are 3.8 L / 1 gallon (gal). And 1 dollar ($) is worth about 55 P right now. 28P * 3.8L * 1 $ = $1.93 / gal .  I left the Philippines for the first time almost 50 years ago and the currency exchange was officially $1 to P2 trading $1 to P4 in the open market.
The earliest Palugods (Servillano, Severino, and Rosaulo) were born in the 1880s. Vickie and Ruby tried oral research and came up with the theory of Padre Damaso (or if you believe the witch origin that Tia Norming heard of the neighbors of that time.) Although this is the year of the tsunami, the biggest explosion the world has known was in 1883 when Krakatoa exploded, traveling around the world a few times. I can only imagine a giant tidal wave reaching the near by cove of Binakayan giving life to the Palugod.
<![if !vml]>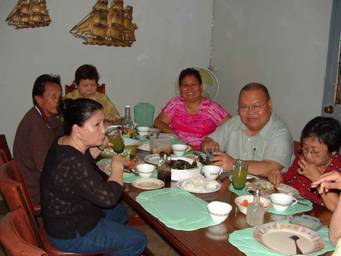 <![endif]><![if !vml]>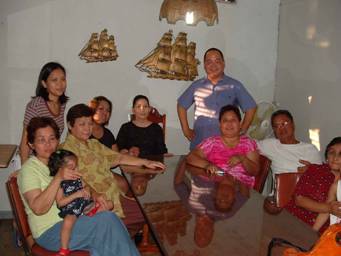 <![endif]>
Certainly another wild conjecture, but the consensus was the Palugod belonged to the illustrado, or privileged class of the late Spanish period, as this would explain the academic status of the early Palugod in Binakayan. Severino and Servillano were teachers in the early American occupation at the turn of the last century. According to what I read in the history of Cavite school system done by LaSalle University in Dasmarinas, the house of Servillano Palugod was made a school building by the Americans.
Indeed teaching has always been one of the passions of the Palugod so I went onto the Guiguinto and Paombong to trace Palugods that branched out in the early 1900s, as the Palugod in Nueva Vizcaya. Leogardo Palugod left his mark in the Sukang Paombong (palm vinegar) legacy, but his children became teachers in the Bulacan school system. The grandchildren were bright students as Lina Palugod Figueroa would become a top CPA and writer for an Asian financial magazine. Our visit was mutually exciting with pride that I would like to extend to everyone.
<![if !vml]>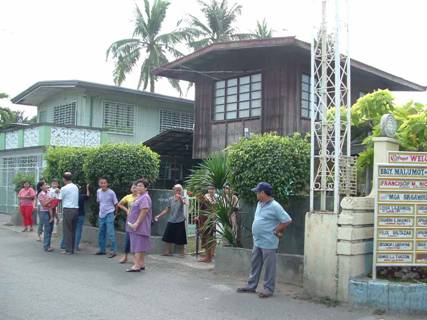 <![endif]><![if !vml]>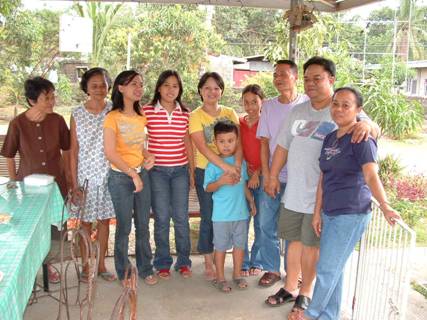 <![endif]>
In Cebu I also met Servillano's nemesis, Willie Palugod, who was chosen to carry on the legend. Certainly a name to watch, he is slated for promotion to become a Filipino Air Force General following his appointment as the Mactan Air Force Base Commander. Willie graduated from PMA and joined the Phil Air Force. He learned to fly C-130 the US flying work horse. Speaking of C-130 and our men in Uniform I just got this email from Josh Palugod (son of Ruben Palugod)
How's it going everyone?  For those who don't know yet I've decided to 
go Airborne... and for those who don't know it's jumping out of planes 
and I'm doing it in the Army.  Before I started Airborne School I was 
in AIT(Advanced Individual Training) and I graduated as a 13Fox(Fire 
Supportist... calling in for fire on a radio)  I'm done with my second 
week here in Fort Benning, GA of crazy PT, in particularly RUNNING.  My 
third and final week I'm jumping out of a C-130... 2 jumps on Monday, 2 
jumps on Tuesday, and 1 jump on Wednesday.  Once I get those jumps out 
of the way I graduate Airborne School on the 18th and receive my Maroon 
Beret and my Jump Wings!!!  I've been away from home for half a year, 
doing Basic Training and AIT at Fort Sill, OK.  The chances of me 
getting stationed back home are slim and none... but since I decided to go Airborne the Army decided that I'd go to Alaska... Ft. Richardson... 
yep... my duty station!!  I'm not in the Guard or Reserves, I'm Regular 
Army so I'm very fortunate and blessed to have Ft. Rich.  Anyway, I 
thought I'd write one of these e-mails to you guys since it's been forever since I wrote you guys.  So that's what's going on right now with me... there's tons and tons of details I can talk about but we'll do that on a one and one basis.  Yeah, so if you guys can write back that would be awesome.  Until then take care and God Bless--- Josh Palugod. (note: this is really a Gung Ho and bravado in Josh's part considering that we are in the most serious harm way in the Middle East. He volunteered as there is no draft for this we salute our trooper)
It was snowing here in NJ when I left late Jan. The tsunami disaster in SE Asia was still being re-played in CNN but the extent of the hurricane and flooding in the Philippines would confront me later when I arrived in Nueva Vizcaya. The Palugod settled in Dupax and Bambang and these two small towns were the hardest hit area in the Philippines. The horror of flash flood and its sound and fury of nature were related to me by the Palugod Family still living there. The lowland quickly submerged as rushing water came from all direction where the diminishing rainforest lost its magic. Livestock and people were lost as most of the farmland was grounded. The power of water so valuable cut the terrain like diamond. Trees rooted out, swept and river banks meandered completely changing the landscape. For the first time a sitting president (GMA) visited 

Dupax

 and 

Bambang

 to see the aftermath.
<![if !vml]><![endif]><![if !vml]><![endif]>
The familiar snow greeted me back to New Jersey a month later.
<![if !vml]><![endif]><![if !vml]><![endif]>
I am posting all the pictures in the Palugod webpage (

http://palugod.tripod.com

) later.
<![if !vml]>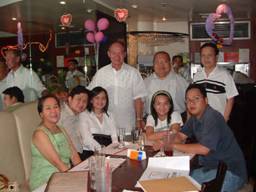 <![endif]><![if !vml]>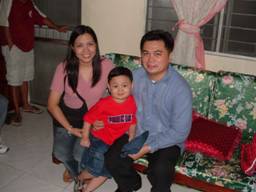 <![endif]>
<![if !vml]>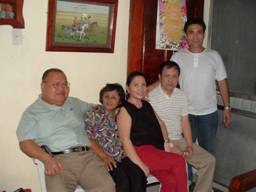 <![endif]><![if !vml]>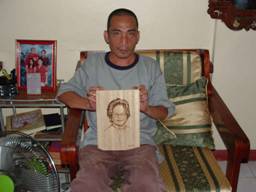 <![endif]>
The other part of my vacation was to attend my 50th HS re-union in Nueva Vizcaya.
It was just a small class from a HS on top of a hill that is not longer there. We graduated in 1955-56 and the memories are misty at best.
It was fun but emotional at times. As an amateur historian, I am able to observe a few more things that may have escaped our collective experience. Every year is a year of discovery and exploration and on the middle of that decade men were no different. The first men to run a mile in less than a minute or the first man to climb Mt Everest were the news headlines of the day. Roger Bannister and Sir Hillary were making their part in history. Most of us were very oblivious to the global events while we tried to learn from this small corner of the universe. It was the final of the our formative years and we did
our best, but what we studied from the school was only a very small part of what we learned from each other. We even learned from the mistake of our classmates. Those playgrounds encounters were part of a learning process.  It was all part of growing up and the commencement was a right of passage. All we had were blurry memories as we did not even have snap shots, only Kodak moments we stored selectively in our minds.
Southern Nueva Vizcaya Institute, our High school is a common denominator in our life. We were all dreamers and fitting the Platters' great song of the period-" I am the great pretender." The earth has successfully traveled around the sun. I've traveled around the world.  Along the way, we reached several crossroads where each of us had to decide which the right road was. A few of us did not have many choices and they were never easy. Life is never fair but I'm sure that what we learn from each other had helped.
Looking back now, we might have made different choices but revisiting time is unlike revisiting places. This is a reunion and celebration. Rejoice as tomorrow is the
first day of the rest of our lives. For whatever experiences we had, I am always proud of our class and company. It is indeed a good year and golden.