What a year it is, 2001
<![if !supportEmptyParas]> <![endif]>
<![if !supportEmptyParas]> <![endif]>
We are now widely dispersed around the world but there is a little Road in Maryland, Abington Lane, Fort Washington (near Washington DC) where 3 Palugod families are just within a block away, Nelson Palugod and his wife, Eleanor settled first at 7559 Abington Lane.   Eligio Palugod Enriquez and Melanio Palugod (older brother of Nelson) followed suit. Aerial photo of Abington Lane is attached and all 3 houses are very visible. Kapitbahay almost.
<![if !vml]>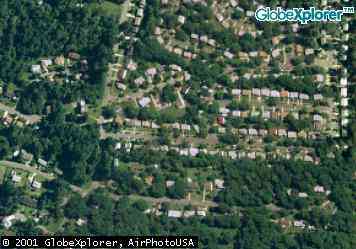 <![endif]>
<![if !supportEmptyParas]> <![endif]>
Abington Lane in Fort Washington, Maryland (Washington DC suburbs)
<![if !supportEmptyParas]> <![endif]>
<![if !supportEmptyParas]> <![endif]>
<![if !vml]>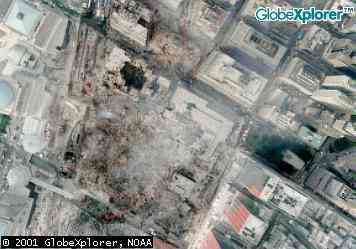 <![endif]>
We will all remember 2001 on what happen on this aerial picture attached.
<![if !supportEmptyParas]> <![endif]>
<![if !vml]>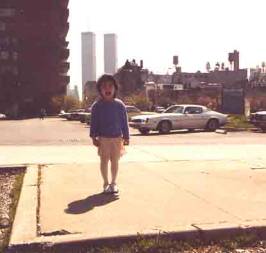 <![endif]>
<![if !supportEmptyParas]> <![endif]>
My daughter, Melissa is standing in our parking lot about a mile from the World Trade Center.  Directly across the Hudson River, that's how close we are. We can see the American landmark from our balcony on the building on her left located on the 13th Floor. We have full view of the NY Harbor, Ellis Island and hard view of the Statue of Liberty.  Our New York skyline has change on Sept 11, 2001.
<![if !supportEmptyParas]> <![endif]>
The US Navy deployed Forces in Afghanistan to prevent future terror attack.  Couple of our own is on active naval service, Guiller Palugod and Ana Enriquez our logistic contribution to the war effort.  On the legal front, Maria Palugod is working at the office of San Diego's Attorney General.
<![if !supportEmptyParas]> <![endif]>
The year also marks the unexpected passing of Dr Alfredo Aliassas in San Francisco, California. He and his wife Nene had just landed in the SF International Airport when he felt ill and tired. It would have been his third visit and we had fun recalling the days in our balcony. We discussed life as we saw and he told our short life span based on medical history.

  

I remember Tio Freddie casually the he observed the short dates of the Palugod grave memorial stone in the Binakayan Cemetery.

  

I will miss him because he was closer to my age (scary) than most uncles. Ate Bella wrote me about the Tio Freddie escorting her to the college's dances when he was studying Medicine at the University of Santo Tomas (UST) when the Beatles were just coming up with sound of the mid century and 2001 was also the year, George Harrison died. Ate Bella wrote rightly that Life is very fragile that we should not take for granted. We see distant stars in the sky that are not longer there. Last month shooting stars can be observed early in the morning, event that only happens once in a generation. I hope that you took time and watch it together with the little children.

  

I like to tell you about half century ago, our Lolo showed me how to watch a total solar eclipse with improvised transparent house glass. We watched the Solar show thru glass smoked in the surface with kerosene lamp but as we waited I also learn more of his time. Life is just connection, continuity, and passing to the next generation. It is always recurring but along the way there is a highlight that never dies that we could reference. In the meanwhile, let us take care of ourselves. Keep in shape, as we are not blessed with the strong heart that could last forever. We have lower lifetime allowance of fats and sugar to put it simply. Take it easy, as not to reach your limit and exercise will a long way. Easier said than done.

  

Go with gusto and don't you worry about small stuff but smile more cause it is the quality of life we are judge more often.

   
<![if !supportEmptyParas]> <![endif]>
<![if !supportEmptyParas]> <![endif]>
Patrick Palugod, son of Rudy and Bella Palugod graduated from Rutgers.  Paulo Palugod, first son of Paul and Nora Palugod is on his second year at Bucknell's College of Engendering and Christian Palugod  (son of Mary Palugod Coronel) is a junior at San Diego State University. 
<![if !supportEmptyParas]> <![endif]>
My search will continue but I will not get you away from my little trivia of Filipino-American history. Over hundred years ago, there were 13 houses in St Malo near New Orleans built by Filipino sailors around the world. I found the exact location of Saint Malo (photo & map also attached) but the houses are not longer there but never the less I like to share you the beginning of our (Filipinos) coming to America. You can read it at: http://members.tripod.com/philipppines/stmaloview.htm
Or visit my website: http://www.filipinohome.com
<![if !supportEmptyParas]> <![endif]>
| | |
| --- | --- |
| e-mail from Rolando Palugod Family | |
<![if !supportEmptyParas]> <![endif]>
This is sad news...
<![if !supportEmptyParas]> <![endif]>
The last time we saw him was June 1 this year.

  

My husband Raoul and I
accompanied my dad Rolando to Nueva Vizcaya for a "sentimental 
journey".
Pops had flown to Manila for my daughter's baptism and wanted to visit 
The home province as part of his vacation.
<![if !supportEmptyParas]> <![endif]>
Tita Estrella B. took us to the Banaue Rice Terraces as a bonus and on 
The way back to Dupax,

  

we dropped by Uncle Freddie's house.

  

Lolo Freddie 
To me, actually.

  

He and Tia Nene prepared pancit, barbeque and fresh buko
juice for us.

  

We all chatted around while watching his favorite NBA 
game.
<![if !supportEmptyParas]> <![endif]>
He kept urging us to drop by anytime we were in the vicinity.

  

He also
mentioned his upcoming US visit.
<![if !supportEmptyParas]> <![endif]>
Strange that we didn't snap any pictures while we were there.

   

Not on 
My camera anyway.

   

I hope Tita Estrella did.

  

I'm glad I had the pleasure 
Of meeting him and that my dad had the chance to reminisce with dear Uncle
Freddie. 
<![if !supportEmptyParas]> <![endif]>
Lillian Palugod-Atun
Demand and Supply Planning
Supply Chain Management Department
Nestlé Philippines, Inc.
Direct Line: (632) 898-6132
Trunk Line: (632) 898-0001 loc. 6132
Email: Lillian.Atun@ph.nestle.com
<![if !supportEmptyParas]> <![endif]>
<![if !supportEmptyParas]> <![endif]>
<![if !supportEmptyParas]> <![endif]>
<![if !supportEmptyParas]> <![endif]>
<![if !supportEmptyParas]> <![endif]>