I  just completed my round of the  Palugod families in California.  I finally met  Minna Herker.  I never saw her before so we had a lot of family news to catch up.
<![if !vml]>
<![endif]>
<![if !vml]>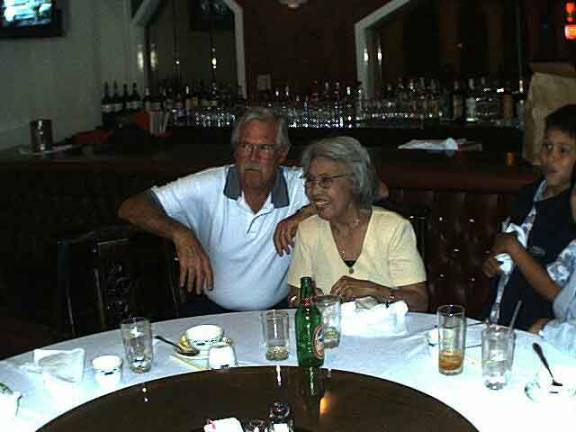 <![endif]>
She is really on top of the living echelon of Palugod and she has some story to tell.  When she told us that last time she saw my mother they went to see the movie, "The Charge of the Light Brigade" during the first run in the Philippines, circa 1936. <![if !vml]>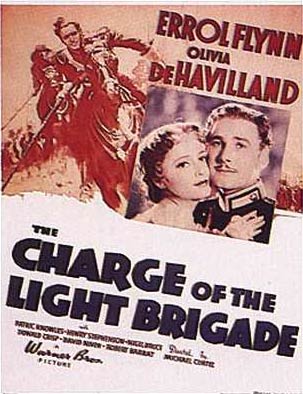 <![endif]>  That was in Binakayan,  sharp memory and I was impressed. I don't know how she remembered the movie but she was sitting with her dashing husband, a retired US Navy officer who looks like Errol Flynn.  They treated us to a wonderful lunch and when I saw them together across the table it was like seeing Errol and Olivia de Havilland of the movie poster.  I don't even know if it was a silent movie or not.<![if !vml]>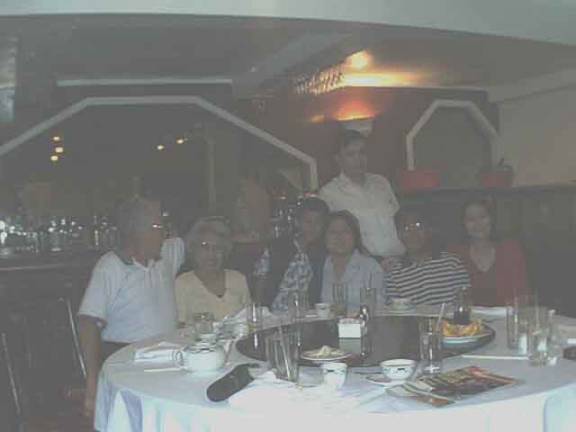 <![endif]>
<![if !supportEmptyParas]> <![endif]>
Yes, we had a wonderful lunch with the two  daughters of Uncle Mering (Homero Palugod). Grace was also very gracious in inviting my mother who just returned from the  Philippines in her  way to Maryland.  I know it was  hard as she was preparing to go to China and Cebu for the long awaited vacation.  She promised to confirm more family data with her dad on her return.  
<![if !supportEmptyParas]> <![endif]>
The timing was also  right, Tammie, daughter of Nieves Palugod Bautista was assigned to the Cathay Pacific Airlines  that my mother took from Manila.  The pretty stewardess joined us to the dinner. It was a great get together as I have not seen her since she was a little girl.
<![if !supportEmptyParas]> <![endif]>
The following week I saw Auntie Minna again with Tia Norming at Sacramento. Together they updated me about a certain gift that we the Palugod "might" had possessed according to the Binakayan folklore of their time. It is a magic that maybe we should not practice or cast.
<![if !supportEmptyParas]> <![endif]>
The next day we went to San Jose, the  Silicon Valley to visit the children of Tio Umpay (Tagumpay).  Let it be known that Silicon valley at this point is recovering from the financial and computer-related section of the economy but from what I saw Pancho and  her sisters are doing pretty good. Tessie Palugod Gerona's  Gold Tray Manila has moved to bigger place at 5310 Monterey Road, San Jose, Cal.  It  is now also providing catering and pastries  for  fine discriminating taste.   The Restaurant and Store enterprise might just be the first Palugod Business in America.  Severino (Pancho) Palugod retired from the US Navy after 20 years but still working   but as I indicated the they are  doing pretty well. The houses are luxurious big with functional landscape and garden.  The flashy 740 BMW in the garage  is not shabby either. I just wish that Tio Umpay could see how well his children are doing now.  The most satisfying however is looking at the faces of the young Palugods (apo and apo sa tuhod) our legacy where ever we are.
<![if !vml]>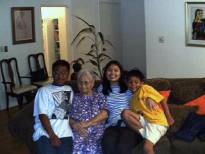 <![endif]>
Dennis, Tammie and Grace's little boy with Lola.
<![if !supportEmptyParas]> <![endif]>
I am going to post more journeys  I discovered in the Palugod website (http://members.tripod.com/palugod)
<![if !vml]>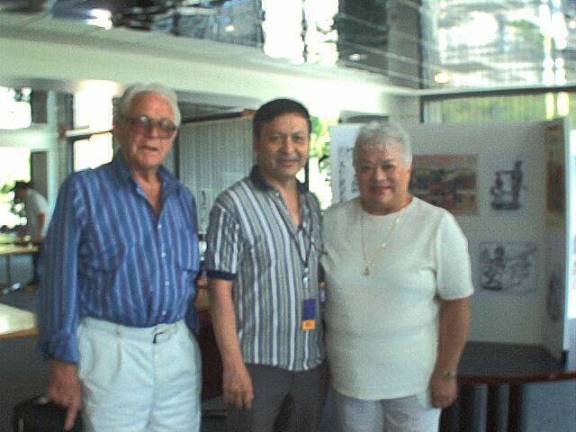 <![endif]>
The Lady in the picture is Victoria Manalo Draves. She won 2 gold medals in the 1948 London Olympic. I went to Los Angeles to present
Manila Village of New Orleans to the Filipino-American National Historical Society. Vickie was the special guest.
<![if !supportEmptyParas]> <![endif]>
I  promised to send everyone who is interested in keeping a Philippine-American History book copy at home.  It is a college level history book by V Bautista of Filipino American study about our saga in general but the book mentioned Palugod half dozen times.
<![if !supportEmptyParas]> <![endif]>
<![if !supportEmptyParas]> <![endif]>
<![if !supportEmptyParas]> <![endif]>
<![if !supportEmptyParas]> <![endif]>
<![if !supportEmptyParas]> <![endif]>
<![if !supportEmptyParas]> <![endif]>
<![if !supportEmptyParas]> <![endif]>
<![if !supportEmptyParas]> <![endif]>
<![if !supportEmptyParas]> <![endif]>
<![if !supportEmptyParas]> <![endif]>
<![if !supportEmptyParas]> <![endif]>